SURFACE PICS
Groundworks and Surface
All the slab and drainage work was carried out by local construction company Trodell Plant who donated all the work, plant and hardcore for the base.
Below : excavations start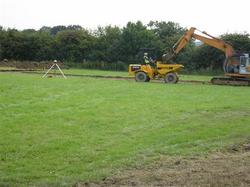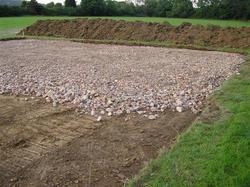 4-6 inches of Hardcore laid and compacted
Ground dug out by about 8", so hardcore and concrete will bring slab up level with grass. Dirt stacked at the back rather than taken to landfill saved a lot of money, and was later sculpted into a rough BMX circuit.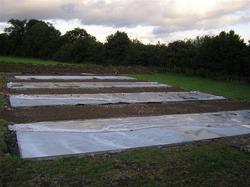 First set of 10ft wide concrete strips are laid.
The main slab is 100ft x 50ft, and is 21nm concrete laid 100mm deep on a consolidated hardcore base, and is reinforced with weldmesh. It is a pavement grade surface.
Expansion gaps need to be set every 10ft or so, with the gaps across the narrow width of the slab. Expansion slots should be kept as narrow as possible, to prevent trip hazards to skateboards. Don't use the standard 18/20mm separators. Remember, as your park is being laid on top of virgin land, the concrete will be able to expand outwards, and should not cause cracking.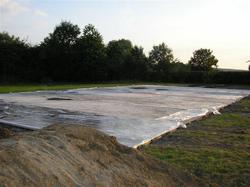 Finished slab, showing BMX dirt heap The concrete must be laid with a fall, and this will work better if the fall is outwards from the centre, rather than across the whole width of the slab. This is to save concrete: a 25mm lift at the centre will give the same degree of fall as a 50mm lift on one edge. The centre line of your fall needs to be on the longest length of the park, not across the width. A fall will prevent puddles accumulating, and will also transfer the fall to the ramp surfaces, and prevent puddles on them as well.
The concrete is "Power floated" just before it sets, and this must be done by a specialist. It will provide a glass smooth surface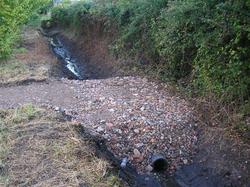 Bridge over ditch for pedestrian entry
Sample Photo 5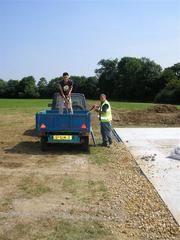 French Drains being laid : this involves laying a perforated plastic pipe in a trench, and covering it with 40mm ballast. The water will run off the concrete, into the ditch and pipe, and theends of the pipe are laid with a fall toward the ditch.
Sample Photo 6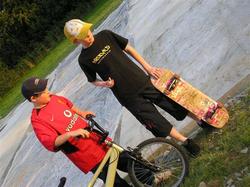 Tommy G and Will B inspect the new surface
Free
Feel free to download and use images.