UPGRADE
MORE NEW STUFF...... BELOW.......
Those of you who visit the park regularly will know that the two top pictures are areas of equipment that has caused a lot of debate, and that have now been modified as below. By splitting the 3ft halfpipe into two quarters, and moving them alongside the 6ft quarter across the back of the park, has opened up a lot of free space.
Last year we put a small spine in next to the funbox in the topright picture, but there was a lot of demand for a volcano. We built a volcano, and put it into the place of the funbox. The funbox we moved across the park and joined ot to the existing box on that side, and built a new centre grindrail.
Due to misinterpretation and over-zealous application of "regulations" by our "safety" inspector, we have been forced to now remove the volcano, despite getting her approval for it first! Sorry, folks, I did try... if you see the inspector in the park, tell her what YOU think.
Below
See how we now have a complete "wall" of different quarters across the back of the park, and how much free space has been gained. Note also we have changed the grind rails to a wider 100mm top surface.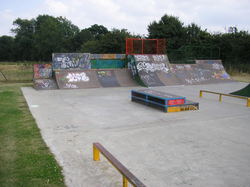 Below
This is the new volcano. We discovered very soon that having aligned it with the 4ft quarters, no-one could get the speed to get over it, so we swapped them around, and moved them as close to the centre of the park as we could. and aligned them with the 5ft quarter.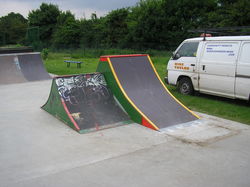 You can see in the pic below that the outer box is the one that was adjacent to the spine on the opposite side of the park, that now has a new grindrail with a 100mm top.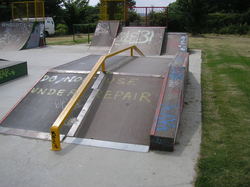 As could be expected, the Inspector didn't like the volcano, so I rebuilt it and added it to the spine. This has been well accepted, and makes the spine more versatile.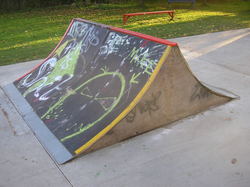 There has been much discussion about how to use the free space where the 6ft Quarter used to be, and the consensus was to put an extra step on the box, and here it is below.